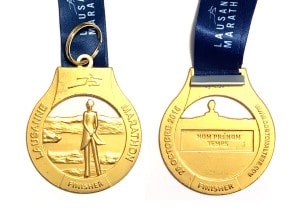 Possibility to receive after the race a plaque with your name, first name and race time to stick on the back of your medal finisher 2022 (attention above example 2018)!
Order upon registration 2022: CHF 7.-
You are a registered runner and you want to add this offer to your "package", please send us an e-mail. We are happy to inform you.
Vous pouvez retirer votre dossard au Marathon Expo le vendredi 21.10, samedi 22.10 ainsi que le dimanche 23.10. Nous vous invitons fortement à venir de préférence le vendredi ou le samedi.
Il n'est désormais plus possible, pour des raisons de délais d'impression et de préparation, de disposer du service "Avant Première" ainsi que de l'envoi du dossard à la maison.
Dès le lundi 26 septembre, pour toutes les inscriptions, les dossards sont à retirer au Marathon Expo au Collège Auguste Piccard le vendredi, samedi ou dimanche.
Merci de votre compréhension.